TOPIC: AUTHORITY OF THE BELIEVER
TEXT: Luke 9:1-2
Introduction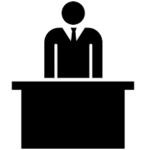 Authority is the right to exercise power, govern, control or command obedience. Every child of God has been given authority by God even as he lives in this world. The decision to exercise this authority is in the hand of the believer. We need to understand our God-given authority, and learn how to exercise it under God for Kingdom exploits.
• Authority by Creation Gen. 1: 26-30; Psa 82:6
• Authority by spiritual birth. John 1:11-12; Gal 3:26; Rom 8:19
• Authority by the Holy Ghost. Acts 1:8; Rom 15:19;
• Authority in the name of Jesus. Phil 2: 9-11; Acts 3:6, 16; 16:18;
• Authority in the Word. Josh 1:8; Mark 11:23; Acts 8: 4-8; Rom 10:8;
• Authority through Prayer. James 5:16-18; Acts 12:5-11; Mat 7:7-11
• Authority through Obedience. 2Cor10:6; Mark 16:20; 1Sam 15:22-23; Jas 4:7
Conclusion
Authority is exercised by faith. We have authority over sin, Satan and all his powers. As we surrender to God and follow His commands we need to use our authority to advance the Kingdom of God.